To start of the fight Souza executed the sweep for the lead of 2-0. But Wardzinski quickly retaliated from his favorite position – butterfly guard with belt grip.
At that point he also passed  for a 5-2. Observe the clock in the bottom left corner.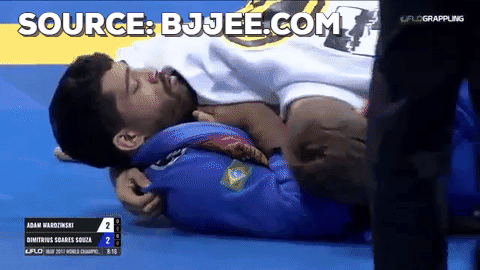 But with 7 minutes and 45 seconds remaining the refs questioned the call and deducted the 3 points from Wardzinski.
At this point whoever was cornering for Wardzinski should've challenged the call because the IBJJF rulebook clearly sates:
They should have immediately contested and demand video replay with an eye on the timer - Galvao style.  But the controversial calls don't end there.
Souza would soon lead 4-2. But Wardzinski then goes and sweeps again for a 4-4. Souza executed another sweep for 6-4 with about a minute left on the clock. Which is where controversy two happened: