I'm sure you've heard of Zebra Mats before. They're one of the largest manufacturers of training mats and can be found in several academies. Zebra has developed a portable mat that is useful for several on-the-go situations. This portable mat rolled up measures 24" x 6" x 6" and unrolled 72" x 24". To give you some sense of perspective it's about the same dimensions as your typical yoga mat. It does, however, provide its user with some unique features other portable mat choices lack.
Zebra has designed this mat for portability. Unlike a yoga mat, the Zebra Warm Up Mat rolls up and is held together with two elastic straps that are connected to the mat itself (so you can't lose them). It also has a convenient handle for easy movement. Zebra includes a carrying case that can be used to sling the mat around your back for additional portability. With the carrying case, the mat weighs less than half of a typical yoga mat at 1lb 6oz (yoga mat weighed in around 3lbs 14oz). It may not seem like much, but when you account for all the other gear you may be lugging around, every pound counts.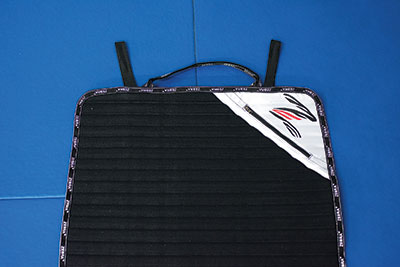 Speaking of other gear, the mat has a built-in storage pocket that allows you to keep a couple personal items zipped up. It's large enough to fit your phone, wallet, and keys. This pocket is very convenient for jiu-jitsu competitors who often need to keep a few items with them in the warm up area.
Overall, the mat provides the comfort you would expect from Zebra. It's made of a foam material that is soft and not rubbery like that of a yoga mat. To my surprise as well, the mat didn't shift or slide around on smooth surfaces like wood or laminate flooring. The base material keeps a decent grip on whatever surface you decide to lay the mat on so you can warm up without any worries.
The mat has a MSRP of $39 and can be purchased directly from Zebra Martial Arts. It comes in black, blue, or red. It's great for jiu-jitsu tournaments, but can also be used in other situations. I can see myself using the mat at the park or while camping, for example. It's very handy to keep in your car or closet for whatever situation arises.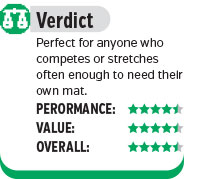 The post Zebra Athletics: Zebra Warm Up Mat appeared first on .